IEP At A Glance Template [Fully Editable]
This fully editable IEP at a glance template allows you to quickly summarize a full IEP (often over 10 pages) into a simple 2-page document. This clean and professional IEP summary is used by thousands of educators all across the country.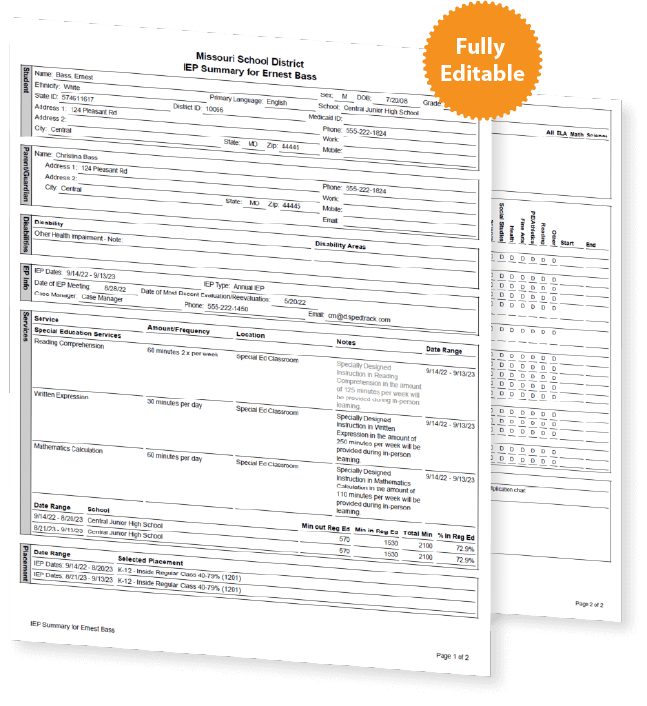 Unlike other IEP at a glance templates, ours covers all core areas of the IEP for superior detail.
This clean yet comprehensive design allows you to easily reference key components of the IEP.
This template can be easily edited in common text editors like Word for simple editing. 
About this Free IEP at a Glance template
An IEP (Individualized Education Program) summary is a document that outlines the specific educational goals, accommodations, services, and other key details for a student with a disability. It is created by the students' special education teacher based on the full IEP. Often times the teacher will distribute this summarized version of the IEP to general education teachers, special education teachers, paraprofessionals, and other staff that will be serving the student. This allows them to quickly reference it without having to read through the whole IEP.
Note: Since the IEP snapshot is a confidential document, it is important that the IEP at a glance is also treated as a confidential document. 
Frequently Asked Questions
Never Create an IEP at a glance again
Did you know that SpedTrack can automatically generate an IEP summary for you based on your students' full IEP? This ability saves you so much time and eliminates the risk of rekeying information incorrectly.